Blog Archives
Aeon is one of Europe's emerging Street Art talents. His styles range from blockbuster through wildstyle and the abstract. This Belgian-based graffiti artist has joined the ranks of those giving hard evidence to INFX about their exploits and endeavours:
INFX: Quelle est la force de la scène graff en Belgique?
Aeon: She is very diverse, we may as well hold back the [old] school, new school, the organic or wild style. Given its industrial past, Belgium has many abandoned buildings, which allows us to move on surfaces diversified and come to the frescoes of [many] sizes. Many more urban festivals are based on the graffiti which allows us to showcase our style.

INFX: Je suis creuser votre plateau de skate. Y a-t-il un intérêt à travailler avec les marques de skate locales ou grand?
Aeon: Yes, because it could lead to changing the image of the skate by the combination with graffiti; it could breathe new life into the movement. It is also good to work with both: local stores allow us to share in the region while industrial [companies] open more doors. I have a preference for the more industrial, but I do not neglect the local stores.

INFX: Quelle est la chose la plus effrayante qui soit arrivé à vous tandis que la peinture?
Aeon: One night on the subway lines, marking a room in elevation with the aid of a ladder. My hand touched the high voltage line and 1,500 volts went through my body; I think it's my most frightening. I know I got lucky.

INFX: Où habitez-vous? Avec des amis? Dans la ville? Banlieues?
Aeon: I rent an apartment in the city alone.
INFX: Dans un (ou deux) mot, comment qualifieriez-vous décrit votre art?
Aeon: Aggressive and malleable. I want to make a dedication "13, GAV, AKF, D2K, P50, B80, V2T… and everyone I do not have room to quote because the list is long…
THANK YOU
Oui -un grand merci à Aeon et son posse! Voir les vraies affaires. Regarder les photos:
This slideshow requires JavaScript.
www.aeon-oner.com
Last night we were witness to the opening of the Crown Heights exhibition at Eleven A in Highlander Place.
The gallery upstairs at Eleven A hosted works from the current kings of graffiti in Melbourne. Works featured were from contemporary crews KSA, MR, F1 and MSA (among the lesser-known). Artists themselves included Aeon, Renks, Greco, Tres, Break, Lush, Banos, and more. Although there was at least a dozen pieces that were brilliant; unfortunately most of the gear left a lot to be desired. Albeit creative and varied in form, the disappointment stemmed from the percieved lack of attention to detail (seeing brush-strokes from marker pen can piss you off a bit). I must re-iterate that this was confined to the lesser works; the smaller and apparently more affordable shit on show. Many of these were simply black book pieces; the kind of stuff you'd expect to form a guide to a brilliant piece assembled on one of the lines.
In all, it was an interesting night. The stand-out pieces were somewhat complemented by the tedious. A varied range is always palatable although I must admit that we expected more from the big names around town (and abroad). Another downer was a Kylie Minogue remix pumped on the loudspeakers, while a dj booth in the gallery proper was left idle. If only a bit more care was taken in the execution of the lesser works and some pride in the arrangement of the venue; notably in price lists and said lack of kickin' tunes; then we would've not only stayed longer but also left in a positive state of mind. At the end of the day, though -who am I to judge? The exhibits are up until May 20th so can do so yourself...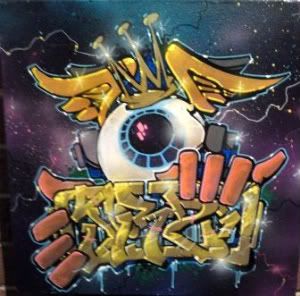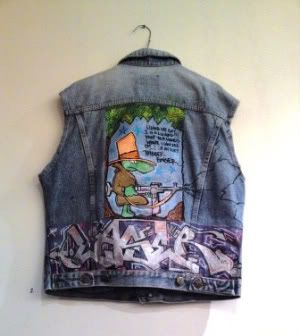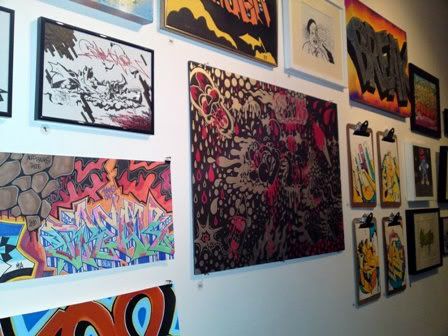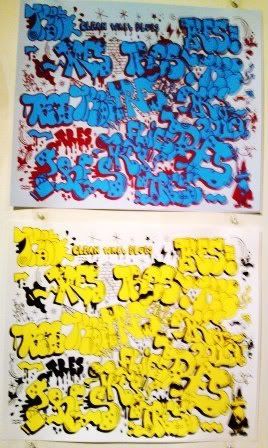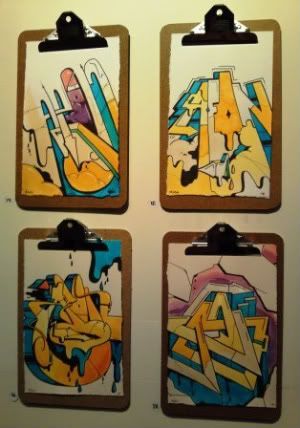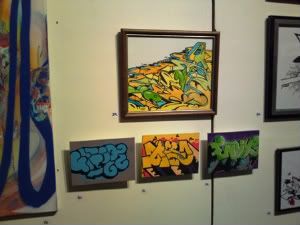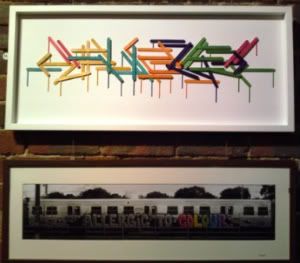 -Rock the Boat